Drawnik offers
Dear guests,
We invite you to stay right in the heart of the Drawa National Park – in a country cottage Drawnik nad Drawą.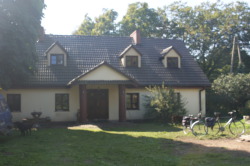 Our country cottage is a perfect offer for those, who wants to escape the hustle and noise of big cities, as well as for those looking for an overnight stay in a clean, safe and comfortable place at affordable price. Beautiful surroundings where Drawnik nad Drawą is located are represented by an untouched nature, picturesque landscapes and, first of all, a blissful peace, which is the main advantage of this place.
A country cottage, Drawnik nad Drawą, is located on a slope in the Drawa National Park, in the very heart of the forest situated on the river Drava, which is literally 10 meters away from the cottage. A view from the rooms will meet expectations of the most capricious guests. Windows face the river and forests, where sometimes you can notice deer coming for a waterhole. Storks are also frequent guests on the territory of our cottage, where many giant chestnut trees grow. We are pleased to offer you vegetables from own garden.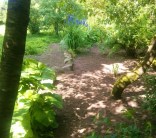 Here you can just relax…
Drawnik nad Drawą offers rooms of various sizes at the price, which will satisfy each customer. For cost-conscious tourists we can offer 4 family rooms (for 4,2 or 1guests). Extra beds are available on request.
Our rooms are decorated in a vintage style. Beds in all rooms are extremely comfortable and provide the necessary relaxation during your sleep. Each room has a separate bathroom. Bathrooms are equipped with toilets, shower cubicles, lockers and washing machines.
Guests are free to use a terrace, a fully-equipped kitchen and a storeroom located on the ground floor.
You will want to come back here…
Drawnik nad Drawą is located 3 km away from Drawno, a town in the southern part of the Pomeranian Voivodeship, which lays on the border of lakes Myśliborskie and Wałeckie. A bakery, grocery stores, petrol stations, pubs and large supermarkets are in a walking distance from the cottage.
We offer:
- bicycle rental
- canoeing (on request)
- equipment for grill and wood for a fireplace
- badminton rackets
- hammock
- internet
- we also sell eggs from our free-range hens
- we offer fresh vegetables from our garden
- we can arrange a sale of local meat products, milk, honey and cheese on request
However, one of the biggest advantages is the proximity of the river Drawa, two large lakes and the marina Drawnik, where you can rent a canoe.
It is fun here...
We also organize Halloween, St. Andrew's Day and the New Year's Eve parties, as well as carnival, corporate and birthday parties, outdoor events and family reunions.
More good news for pet lovers. There are 11 cats (all of them are vaccinated, sterilized, well-groomed and spoiled) and 2 friendly dogs. We are a pet friendly cottage.
We make every effort to make your stay in Drawnik nad Drawą unforgettable. We invite you to use our services.